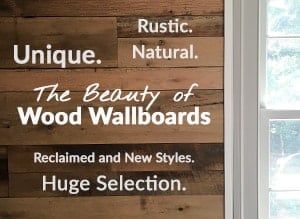 Walls of Wood.

New + Reclaimed | Prefinished | Commercial + Residential.

Adding wood to your walls or bars, both home and commercial accents, can change the look of any space. From restaurants adding a natural rustic wall paneling look with our reclaimed oak to DIY'ers setting the tone in a living room or outside on a barn, Stonewood Products has an amazing inventory of wallboarding.
Natural. Wood.
We only offer the real stuff. Our wallboarding collection is all natural wood from old barns as reclaimed or newly sawn lumber milled from our partners… real wood that never compromises on authenticity.
---
Shiplap has definitely risen in popularity over the past few years, thanks mostly to Chip and Joanna Gaines from HGTV's Fixer Upper. At Stonewood, we offer a variety of shiplap products, so you can get this trendy look for your project.
Our Barnwood Collection is prefinished 8″ nickel gap shiplap that is crafted to look like reclaimed barnwood. Completely VOC free, these panels look like they were created by Mother Nature herself.
The newest addition to our wallboarding collection, Ledgewood Wall Panels are uniquely textured and preassembled for easy installation. Made from 100% recycled materials and artisan hand-crafted.
Our selection of reclaimed wallboarding is like no other! From Oak and Chestnut to real salvaged boards from New England barns and earthy Farm Wood, we have reclaimed products to fit any project.
But wait, there's more! Looking for something completely different? We have wallboarding options to fit every style!