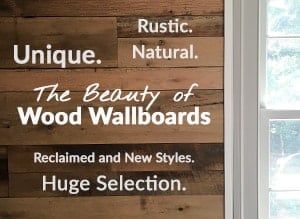 Walls of Wood.

New + Reclaimed | Prefinished | Commercial + Residential.

Adding wood to your walls or bars or home and commercial accents, can change the look of any space. From restaurants adding a natural rustic wall paneling look with our reclaimed oak to DIY'ers setting the tone in a living room or outside on a barn, Stonewood Products has an amazing inventory of wallboarding.
Natural. Wood.
We only offer the real stuff. Our wallboarding collection is all natural wood from old barns as reclaimed or newly sawn lumber milled from our partners…real wood that never compromises on authenticity.