Landscape Lighting | Outdoor
Serving Landscapers, Contractors, Builders, Homeowners since 1997


---
Landscape Lighting
Stonewood Products carries a comprehensive inventory of Outdoor Lighting and Landscape Lighting to help contractors, homeowners, landscapers, builders bring their lighting dreams to light! We ship from Nantucket to Marthas Vineyard to California. Our outdoor lighting includes two premier outdoor lighting companies in Cast Lighting and IluminFx. Landscape lighting not only is great for the ambiance, adding LED or standard options to outdoor living spaces and around your home, it also can provide a level of security too. Nothing beats the look of well lit outdoors at night on a beautiful landscaped area.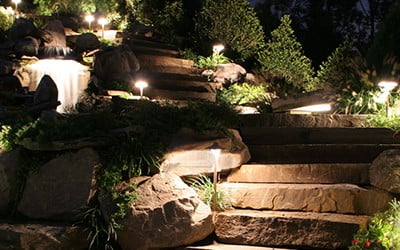 When you decide to go with Landscape Lighting our customer service group will help you choose what is best whether it be a small walkway to an entire property. We offer LED, Fiber Optic, and many more options to help illuminate your walkway, driveway, outdoor kitchen area, etc after you have completed hardscape and softscapes. We also ship across the country but namely we work with those on Cape Cod and the Islands – Nantucket, Martha's Vineyard as well as Chatham, Block Island, southern New Hampshire, to the South Shore.
Get Started with Stonewood
Your Favorite Room doesnt have to be Indoors. Stonewood Products is well known for helping many build the outdoor space of their dreams with amazing stone, fire, and wood product options. Adding lighting is a part of many of these projects and we are happy to work with you to add the landscape lighting component to your outdoor area. Talk with us today to learn how we can help you bring your dream outdoor living space to the next level with outdoor lighting.