---
Why Reclaimed Floors?
Reclaimed Wood Flooring has strength not found in newly sawn lumber.
The reclaimed antique wood from many buildings that we salvage from was a part of American forests for a long time….some for centuries. This antique wood gives us the unique ability to go back in time and offer you amazing wood characteristics you cannot find now. We are able to repurpose most of our antique wood from mills and factories into flooring, lumber, and other uses.
Reclaimed Wood is environmentally responsible and looks amazing.
By reclaiming wood flooring from old structures, we are participating in green building. Reclaimed Wood is a beautiful addition to any home – our best sellers are reclaimed antique pine wood floors and reclaimed oak flooring.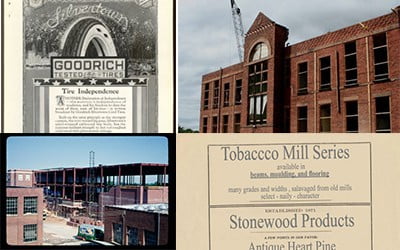 Where We Reclaim
Old Buildings. In America.
Our Reclaimed Antique wood flooring is unique with our capabilities to bring wood to you right from the source. Furthermore, we can find you the right look you want from our many ongoing salvage projects.
The Look: Beams versus Floors.
Our various floors have different looks depending on the part of the structure. A more character and naily look tends to be from floors and outer parts of beams. Floors without nails are typically sourced from the deeper parts of those beams and flooring.
Why Stonewood?
We Control the Process from Start to Finish.
The best sources for reclaimed wood flooring are old buildings that provide an excellent harvest from both existing floors and beams. We are able to obtain different reclaimed flooring styles and quality because of the area of the building we select and mill down.
Flexibility.
Not only do we offer our popular floors reclaimed wood flooring as unfinished, we can provide you with pre-finished and engineered reclaimed wood flooring. Do you want a reclaimed wood floor over radiant heat? No problem. We will work with you.