Barnwood | Recalimed
Our barnwood is the perfect choice for an authentic reclaimed look. Offered in various widths and colors, it's a great product for wallboarding, paneling, and more. Carefully chosen from agricultural buildings throughout New England.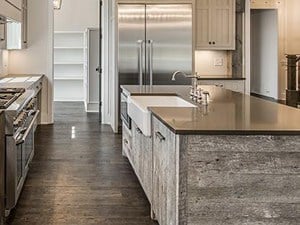 Barn board's surface is naturally textured and weathered by the elements, so the thickness of these boards is very rarely uniform. Thickness of barn boards generally varies from ½" to 4/4", with  occasional portions of some boards becoming thinner or thicker.
The color of barn board varies, depending on the type of exposure the siding experienced, and whether or not it was painted during its lifetime.
Originally sawn to protect crops, livestock, equipment, and farm mat
erials from the elements, each board is now unique in character, color, and weathering pattern. Barn board is a highly sought-after wall paneling for restaurants, bars, and homes.
We reclaim old barn wood siding by carefully dismantling barns and other wooden structures in Massachusetts, Rhode Island, New York, Pennsylvania, Vermont, and New Hampshire. Each plank is hand-inspected and denailed, kiln-dried to remove moisture and impurities, and then precision milled into distinctive wood of strength, character and durability.