Ipe Decking is a great choice for homeowners who want to ensure that their deck stands the test of time.  Ipe is the strongest wood on the market, incredibly durable, and resistant to scratching, splitting and rot.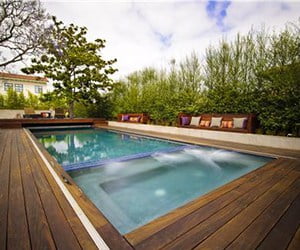 Also called Brazilian walnut, ipe (pronounced ee-pay) wood is typically found in South America and some parts of Central America. It is one of the densest hardwoods available, three times harder than cedar. Ipe has the same fire rating as concrete and steel, meaning it resists flames much longer than softer woods, and is so dense that it doesn't float in water.
Like redwood, it has a natural oil that keeps bugs out; it's resistant to mildew and decay, making it ideal for coastal construction. Ipe wood lasts a minimum of 25 years, although many architects say it can last up to half a century if maintained properly.
There is no other wood that is more durable or rot-resistant, making it ideal for any outdoor application.
Left to mature in the UV sun rays, weathering will change the ipe to a nice consistent light chocolate gray. Finishes applied on an annual basis can be used to hold ipe's original color. If it has been allowed to gray, ipe can be power washed back to its original appearance.