Shiplap Pine Lumber – Knotty Grade
Source: Northeast US & Canada
Applications: Flooring, wallboarding, barn doors, ceiling paneling, sheds
We are happy to service projects small to large and guarantee that our shiplap pine is the highest quality and best value on the market.  If your project requires shiplap pine, you have come to the right place!
---
#1 Pine Lumber Supplier
Eastern White Pine lumber is easily worked with tools, feels soft to the touch, and looks great with many different stains that let the knot structure show through or mask it to some degree. Our pine lumber can be used for virtually any use around the home, from farm barn projects to exclusive interior moldings.
Pine lumber is inexpensive in all grades compared to most other woods.
Texture can be left in the surface as rough sawn pine or barn board pine, or smoothed out on all four sides as S4S pine lumber.
Our boards are kiln dried and our standard knotty beams are green.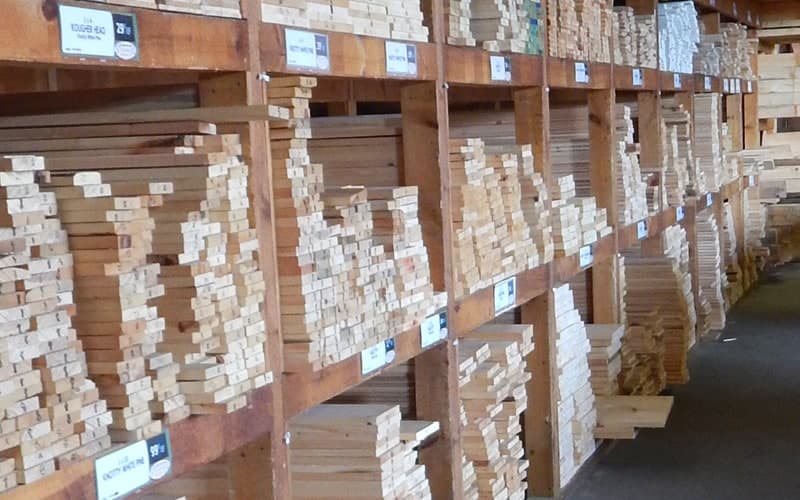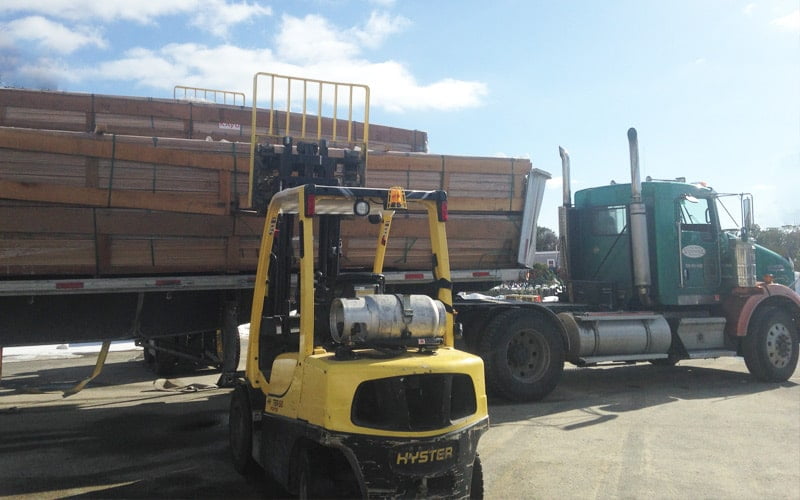 We supply Eastern White Pine lumber to many customers across the country as its a very versatile and popular wood. Eastern White Pine is a soft wood that grows in the Northeast US and eastern Canada. Pine is an appearance grade wood that is typically chosen for its warm tones with knotty being more casual.
Properly painted or stained, Eastern White Pine lumber is an excellent exterior wood. When used on interiors, pine is commonly run to patterns that can be used for paneling on ceilings and walls, moldings, or is used as a square edged trim board around doors and windows. As a floor, pine is soft, picks up the character and reflects the lives of those who are using it, and is a popular choice when extra wide plank is desired.
---
What's the difference?
We realize there are so many types of shiplap, and "shiplap-type" options available, we wanted to take some of the guesswork out of comparing our products to each other. In the table below, you'll be able to compare our 4 best selling types of wallboarding for "the shiplap look", including size, finish, profile and more.
Pine Shiplap Boards
Cottage Paneling
Nickel Gap Shiplap
Gapped Poplar
 Why Buy?
 Entry level to get you started - Can be finished now or finished later
Need "The Look" for a Cottage or Castle? Pine Character will show through, keeping it "Cottage Casual". Defect according to your style.
"Nickel Gap Cottage Casual" in easy-to-install gapped shiplap. Pine Character will show through and the pine price is nice! Defect according to your style.
 The "Ultimate" when you are looking for the clean, smooth look. No knot bleed - elegant and sophisticated.
 Finish
 Unfinished
 Primed White
Ready for your Top Coat
 Primed White
Ready for your Top Coat
 Primed White
Ready for your Top Coat
 Profile
 Shiplap
 Tongue + Groove
 Shiplap
 Shiplap
 Size
7/8" Thick
5" - 10 7/8" Face
3/4" Thick
4-1/8" Face
3/4" Thick
5" Face Including Gap
3/4" Thick
7" Face Including Gap
 Gap
 No, but gappable on site
 No, T+G with Micro Bevel
Approximately 1/4"
 Approximately 1/4"
 Reversible
 Yes
Smooth 1 Side, Rough 1 Side
 No
No
 No
 Usable Outdoors
 Yes
Stained, Painted or Natural
 No
No
 No
 Character
 Knotty Pine Character
 Occasional Knots
Occasional Knots
 No