Serving Landscapers, Contractors, Builders, Homeowners since 1997
---
Pagodas
Stonewood Products has provided materials for dozens of local Pagoda builds around the Cape Cod and Islands area. A pagoda is an attractive alternative to an awning or large umbrella for those days when you need relief from the sun. Often placed over a patio, next to a pool, or over a hot tub or outdoor kitchen, a quality pagoda can increase the value of your house and makes outdoor gatherings even more enjoyable.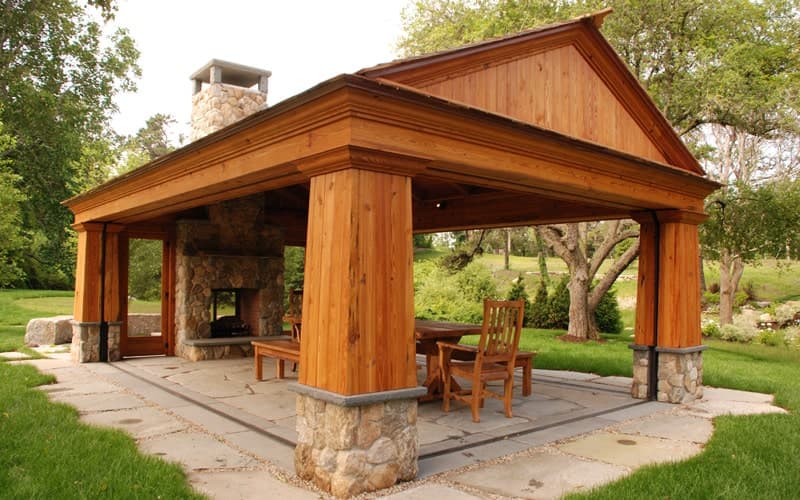 We offer pine and cedar lumber boards, posts, and beams, as well as PVC components to use in your pagoda build. Cedar is a great choice because of its resistance to decay and rich, warm hues and character. PVC is becoming more and more popular as well because of it requires little maintenance and almost always looks clean. Finally, Stonewood Products has an unparalleled selection of reclaimed wood including pine and cedar boards, beams, and timbers. We've got everything you need to build a truly stunning outdoor pagoda.
Get Started with Stonewood
Your Favorite Room doesn't have to be Indoors. Stonewood Products is well known for helping many build the outdoor space of their dreams with amazing stone, fire, and wood product options. In addition to a pergola or pagoda for your yard, we offer natural and manufactured stone pavers, travertine pavers, outdoor kitchens, outdoor fireplaces, fire pits and more. We also know local contractors to help build your pagoda or pergola in the Cape Cod, Martha's Vineyard, Nantucket, and South Boston areas. At Stonewood Products, our passion is helping customers build the home – and outdoor living space – of their dreams. Contact us today!