Stay Young at Heart | Build a Tree House
Have you ever considered building an adult tree house? Many young children dream of having the coolest tree house on the block. A secret fort where they can spend the day hiding out in their own world of make believe. Usually these castles in the sky come with one golden rule: No Adults Allowed.  Ironically enough, the reasons we still want a tree house as an adult are still fueled by all of the same needs. We are looking for a place where we can get away from the hustle and bustle of our daily lives, our own personal place to escape. A small space to once ag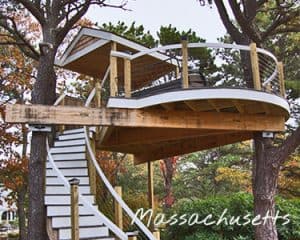 ain connect with our roots, connect with nature. Today we have come to the rescue of all adults who secretly longs for their own elevated sanctuaries.
Recently, customers used Stonewood Products to build their own "adult tree house" in Eastham, MA.  The house boasts sophisticated curves and design, thanks to the help of Lineal Inc.  Its spiral staircase is the envy of every plain old ladder, and its platform is large enough to host several friends for sunset cocktails.
Stonewood Products | Your Imagination
It's amazing what can be done using some wood and thoughtful design isn't it?  Take for instance these amazing examples of adult tree houses in Colorado and Canada:

Our favorite feature of this beauty, designed by Missy Brown, is its roof…perfect for star gazing and wildlife spotting!  Kids can play below in the well-lit living room while adults mingle upstairs or on the side porch.  So many rooms to choose from! Some of us could almost imagine living in this beauty full-time.
The interior has a couch for napping, a desk for writing and working, a kitchenette and small dining area. The initial inspiration for the room was a cozy spot for hosting lunch and dinner parties… in a unique and rustic setting.
When planning the design of your adult tree house, aspire to great heights! Perhaps the example to the right is not for the faint of heart, but you have to admit that the aesthetic is gorgeous.  This bold adventurer used several different types of durable tropical hardwood for his masterpiece, such as Ipe and Mahogany, both of which are carried at Stonewood.
Stonewood can make all of your outdoor dreams reality!  We ship nationally, think differently, and offer our customers the highest value and best-quality products.  Call us today with any questions!