Bring the Indoors. Out.
When people used to think about their favorite room, it was either the kitchen with an island and a great area to gather the family, the living room with wide plank floors, the bedroom, the basement man cave with live edge slabs, or an amazing TV / theater room with the best surround system and reclaimed wood wallboarding.
Nowadays, many think their outdoor patio area is their favorite.
And why not? With the sky as the view, nature all around you, growing options in outdoor living options, it just gets better and better to live outdoors… even if you only have 4-6 months to do it. Here are some ways to create your outdoor living area with stone and wood.
1. The Patio
Patios come in all shapes, sizes, and styles. Some choose decking if you want a raised outdoor area. For in-ground use, you can go stone. For a garden natural look by using irregular bluestone pavers (tumbled or regular) that allows grass to grow between the stones. For a more classic look, go with pavers that can either be regular, traditional, tumbled, or large sized slab pavers (trending item).
If you love natural stone, you have many choices as well depending on the look you want. While Bluestone is popular as a go to, the up and coming natural stone pavers like Niagara Blonde Granite, Chatham Blue Granite, Nautical Grey Sandstone, and Nantucket Limestone should be on your list. And, for one of the more unique stones that stays cool in summer and is great for stone pool decks, Travertine is the way to go.
Adorn with softscapes and you're off to a great start.
2. Light it Up.
After the stone patio is done, you should look at what type of use it will get. If its a dark area and you like the ambiance of outdoor lighting, that's a great way to set the tone around the space. A Gas Powered fire pit or Wood Burning fire pit or fireplace is always a popular addition, not only adding light, but also warmth and a place to gather. Wood Fire Pits and Fireplaces provide the most heat with the great smell of wood burning smoke but arent as convenient as Gas which is easy to start and provides a consistent fire – powered by wither natural gas or propane. While many cook s'mores and other food on fire pits, an outdoor kitchen is certainly the best way to truly bring the indoors out. You can choose your grill, and kitchen layout that includes a bar and have everything outside in one area.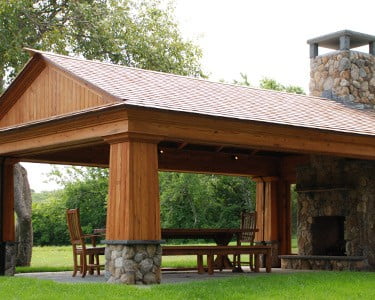 3. Finishing Touches.
Your outdoor living space can be a constantly evolving room. New trends include outdoor TV's, water features, and outdoor movie screens just to name a few. Another trending option is to add a Pagoda over your outdoor living space that provides a cover for elements (sun, rain) and can have lighting integrated in as well. Pagodas can be made to match your home or be custom built to stand out. We have been a part of many kinds of Pagodas that offer reclaimed wood, built in fireplaces, and PVC columns with stone veneer footing.
The limits to your new favorite room…are your imagination.
For more information
Contact a Stonewood Products representative for questions. We work with some of the best contractor in the country and we are happy to provide references whether you live on Cape Cod, Martha's Vineyard, Nantucket, Boston, RI, New England to NY.