Wood Finishes | Oiled Finish Hardwood Floors
Should you choose oiled finish hardwood floors? Selecting the appropriate finish for your hardwood flooring is not only essential to enhancing the natural beauty of the wood, but to ensuring that the floors remain protected from the wear and tear of everyday living.
It is important to distinguish the difference between wood stain and wood finish.  Wood stain simply refers to a color element, typically liquid, that is applied to the wood that dyes the wood a particular color.  It contains absolutely no protective barrier for your wood flooring. Wood finish, on the other hand, protects a floor from damage by providing a "shield" on the top layer.
Now that we know the difference between staining and finishing, which finish is the best for your application?
Historically, urethane finishes have been tremendously popular due to their extreme durability.  Whether site finished or shop applied (prefinished), urethane finishes are the most damage resistant. However, this durability comes with several noteworthy drawbacks.  Firstly, they are difficult to re coat because the finish is so hard.
Secondly, urethane finished floors look the best the day they are installed and continue to get scratched, scuffed and worn over time until you have to be re coated or refinished. Damage to a urethane floor is easily identifiable by the highly visible white scratches that will inevitably appear.  In order to repair the finish, you must remove all furniture from the space to apply an even uniform fresh coat of finish.
The Difference | Oiled Finish Hardwood Floors
Matte Finish and Easy to Maintain
Oil finishes have increased in popularity recently mainly due to a movement towards a low-sheen, chic and natural matte aesthetic. Oil finished floors are excellent for bringing out the natural beauty of your selected wood specie.  Unlike poly finished floors, oiled floors are very easy to repair if damage is done. When scratches occur on oiled floors, you can buff and blend them away very easily without removing the furnishings. Because of the flexibility to repair damages on oiled floors, if you are someone that does a lot of entertaining, an oiled floor is an excellent selection as it is easy to return the floor to pristine condition.
Maintenance is another key in extending the product life cycle of your wood floor.  Urethane and oiled floors are maintained in different ways.  When specifying the finish type, be sure to understand what kind of cleaning and maintenance will be required.
A urethane floor finish should be dry mopped or vacuumed.  Seldom will it ever be damped mopped.  With excessive damp mopping, it is possible for contaminants to create a haze on the finish.  Additionally, these contaminants may present adhesion issues when it becomes time to re coat.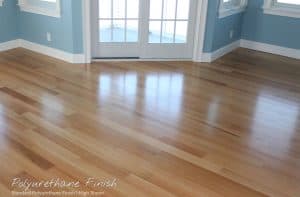 In contrast, oil floor finishes may be damp mopped with a soap and water solution.  Working on a restaurant project?  We would highly recommend an oil finish because it can be damp mopped as well as the flexibility in "refreshing" the floors without major disruption to business.
In conclusion, oiled finish hardwood floors offer a beautiful matte look, with less headache when is comes time to repair the inevitable scratches that will occur during your floor's lifespan.  If you think an oiled finished floor is right for you, be sure to check out Stonewood's line of UV Oiled Prefinished Wide Plank Hardwood today!