Mahogany Decking
Mahogany decking is a great choice primarily because it is so durable. It stands up well to weather and resists rot thanks to the properties of the wood.
The grain has an attractive dense pattern, and the colors can range from a light blond to rich dark red.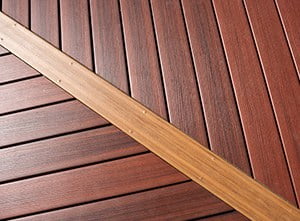 Mahogany decking has the unique quality of not splintering, even when the wood has been damaged. It's a great wood for a deck that will stand up to children and not cause painful injuries to bare feet. Mahogany decking is incredibly popular because it combines low maintenance with affordability.
Stonewood offers a variety of widths and lengths, ensuring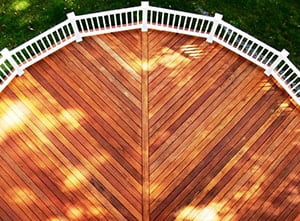 that you can complete any project you are hoping for.
Mahogany is a tight-grained tropical hardwood that resists pests and rot. Treat it with marine oil and it looks like teak. Or, let your mahogany deck age to a silvery hue. We offer a prefinished option, and treatments to ensure that your deck is the best it can be.
Learn more about Mahogany decking by speaking with a Stonewood professional today. We are always happy to help, and want to give our customers the best experience possible.