Written by Sally Writes
There's nothing quite like passing the hours of a cool, crisp night in front of a warm fire with good friends, good food and memories to last a lifetime. Fireside chats aren't just for chilly winter nights anymore, as outdoor fire pits and fireplaces keep the flames roaring all year long with a variety of fixtures and designs to fit virtually any outdoor space and area.

Preparation is Key
Outdoor fireplaces offer far more variety and diversity of design than their indoor counterparts, and deciding on the style, aesthetic, and fuel type may prove to be the most time-consuming part of your backyard transformation. Here are three things to consider before mapping out your plans for the central fixture in your outdoor living area:
The location of your outdoor fireplace. While it may seem like the open-air environment will make the placement of your fireplace a breeze, the positioning of the structure has a dramatic impact on the entirety of your landscaping. Make sure your fireplace is easily reachable from the back entrance to your home, and placed near a pool or spa to provide light and warmth for a night time soak.
Space-saving and safe design. In smaller yards, constructing your fireplace on a patio or deck maximizes space already in-use. The safety of your home and guests is also extremely important, so be sure to check that your fireplace is properly ventilated and situated far away from brush and roof lines.
The objective behind your outdoor remodel. What's the reason for installing your outdoor fireplace? If you wish to use your outdoor fireplace for open-flame cooking, you'll need space for a large dining table and chairs. However, if your fireplace will be used strictly for entertaining, ramping up the comfort of your outdoor living area with plush chairs and group-style seating is ideal.
Know Your Options
Once you've decided on the perfect size and placement, it's time to start shopping for a suitable outdoor fireplace. With building materials ranging from brick to stucco, you can be certain that your new installation will match your home and garden's exterior. Carefully consider these different types of outdoor fireplaces before deciding on materials and design.
Smokeless Fire Pits. If you have small children or pets, or are sensitive to the rolling smoke from conventional wood-burning fireplaces, a smokeless fire pit is a perfect alternative. Enjoy all the fun of a campfire with none of the stinging smoke.
Traditional Fire Pits. These structures are stone based, wood-burning "raised fires." Fire pits offer a traditional camp-fire aesthetic and are very inexpensive. However there is no ventilation system as the basin full of burning wood is simply surrounded by stone, which can result in billowing smoke that follows the direction of the wind.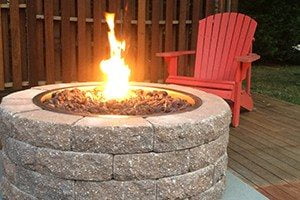 Gas Fire Pits. These sleek additions offer wide-ranging varieties of illuminated centerpieces for your backyard entertaining space. From pre-cast modular templates with DIY assembly, to fire pit tables, and even custom designed fire pits, the size and appearance of your fixture is completely up to you. These fire pits include customizable accessories like colorful fire glass, lava rocks and spark screens, and can be powered by your choice of either natural gas or propane.
Complete Outdoor Fireplaces. These additions are without contest the most expensive option, but they are an excellent and transformative addition to any outdoor living space and well worth the investment. You will need the help of a professional to install this full-scale fireplace, with the dimensions of a typical structure as large as three feet deep and nine feet wide.
With planning and careful decision-making, you can turn your backyard into the envy of the neighborhood with an outdoor fire fixture. From entertaining, to cooking, to a source of light long after the sun goes down, you can enjoy your investment year-round with both family and friends.