Popular local eatery The Corner Store proclaims on their website that they are "not your average store", and it certainly shows in the attention that is paid not only to the delicious menu items, but the shop's architectural design details as well.
Owners chose our gorgeous Auburndale Prefinished Hardwood Flooring to furnish the entire restaurant, and make the space feel incredibly warm, inviting and chic all at the same time.
Auburndale | Flooring Application
The rest of the decor was kept minimal, with long communal hi-top tables and modern stainless steel bar stools. It's easy to see the inviting feeling that the floor lends to the space while lingering over a cup of delicious Beanstock coffee or one of the store's signature breakfast burritos.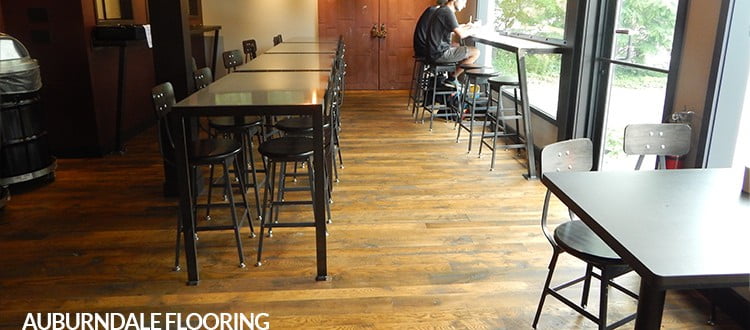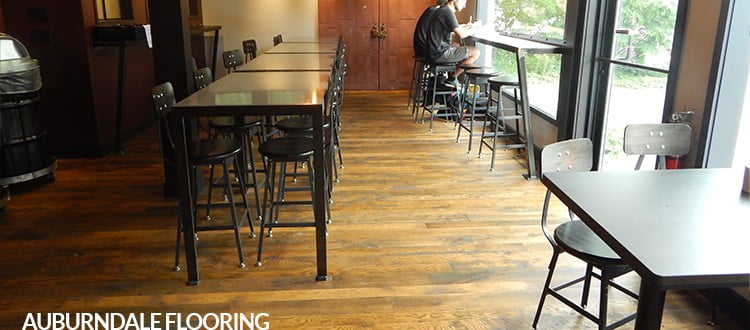 One of our best selling oiled hardwood flooring options, Auburndale prefinished oiled hardwood flooring is stunning with an antique appearance, dark matte color, and heavy sawn milling. It is the perfect choice for someone who wants a unique and high-quality product.
Auburndale | Wallboarding Application
As with all of our unique woods, Auburndale doesn't have to be used for flooring alone. As you can see below, it's also fantastic when used in a siding or paneling application.  The Corner Store used some of this amazing wood for their coffee bar and customer-facing food prep area.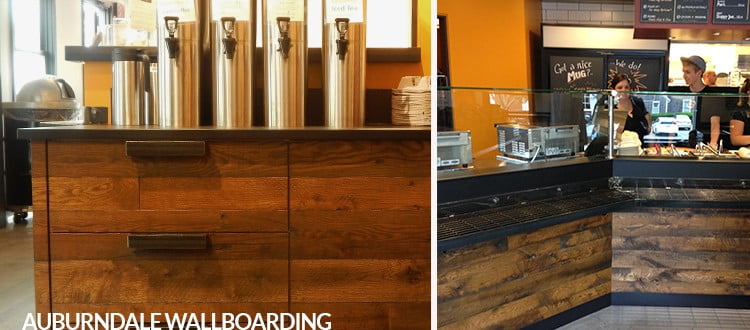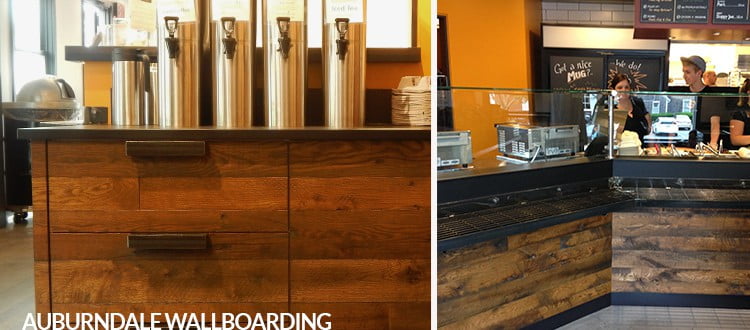 Auburndale is a prefinished hardwood Heavy Sawn Red Oak flooring from the Otter Creek collection. Harvested from sustainably managed forests and available in solid and engineered, it is hard wax UV Cured oiled hardwood flooring – brushed to achieve a unique design aesthetic. Perfect for both residential and commercial applications. Stop by our one of our showrooms today and allow our experts to help you choose the perfect material for your next project.
For more information
Get your next burrito or lunch at: The Corner Store
See more of our Prefinished Wood | Otter Creek Collection
Auburndale Flooring Product Page
Auburndale Wall Boards Product Page