Stanstead Granite Steps
Our Stanstead Granite Steps are one of the more popular and classic granite steps. These granite steps are thermalled, providing a non-slip and even surface. Machine-gauged to same thickness making for easy installation.
---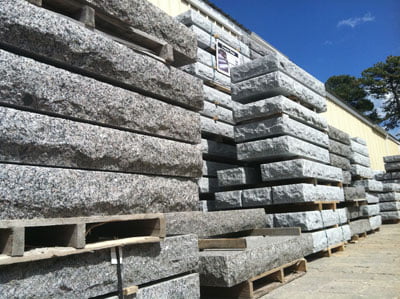 Granite Steps are a staple of many homes. Accent your landscaping with granite, which is a great stone that weathers winters and salt very well. Choose from Caledonia Granite or Stanstead Granite.

We carry all your needs including cheaks, fillers, and granite curbing. Most steps are 7″ High and we carry generally 2′-8′ Lengths but can get most sizes you need for special orders as well.
Stonewood Products granite stone collection includes:
Granite Steps (radius or straight)
Treads
Landings
Curbing
Bollards
Compasses