Ledgestone Veneer | Thin Stone
Ledgestone veneer is an all natural stacked stone. It is used in residential and commercial architectural construction for both exterior and interior applications. Thin Veneer is cut from real, all natural New England stone. Hand crafted by skilled stone cutters into a beautiful focal point for your home or office. The ledgestone pattern of stone veneer consists of thin strips of natural stone for siding or cladding masonry surfaces. Stacked, dry-laid, jointed, or over-grout looks are just some of the installation technique chosen by the installer. Sold as individual stones, not stone panels.
---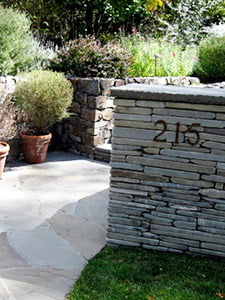 LEDGESTONE THIN STONE VENEER
Individually cut natural stone in a wide variety of shapes & colors sourced throughout New England, New York & Pennsylvania. Thin veneer are naturally occurring stones, sawn on the back-side to a 1"+/- nominal thickness in a variety of shapes allowing a naturally stacked stonewall appearance in a fast installation product.
Thin veneers can be used to enhance or create a natural stone look on any wall, building, fireplace, outdoor kitchen, fire-pit or location of your choosing.
Available sizes and colors include: Blue Mountain, Coastal Blend, Newport Mist, Fieldstone, Greenwich Grey, Colonial Tan and Old New England.
Adheres to Walls, Foundations, Fireplaces & Exterior Surrounds, Usable in an Interior or Exterior Application.
Mix Sizes Shapes & Colors to individualize the appearance of your wall.