Everblue™ Pavers
Bluestone Outdoor Porcelain Pavers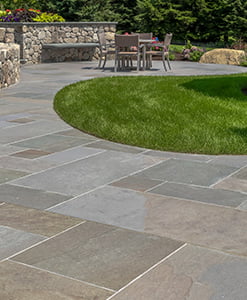 Well, simply put – they are exterior grade porcelain stone that mimic the look and feel of natural bluestone. Why buy a manufactured stone when you can buy the real stuff? Here's why:
1. No Shaling – Shaling occurs when water is absorbed into the stone and the layers of the natural bluestone tend to separate from the expansion and contraction. This can happen 6 months after installation or 20 years, there is no way to predict when it will occur. Natural stone has a water absorption of 1.6%, compared to porcelain stone that has a water absorption of .05%! Porcelain will never shale, flake or crumble because the water is not able to enter the stone and break it down.
2. No Fading – Porcelain will never fade or change in color due to the manufacturing process that porcelain is created. Unlike natural bluestone that can fade or change in color over time due to exposure to the environment.
3. No Scratching – Never worry about patio furniture scratching porcelain stone… the surface durability and color saturation insures long lasting beautiful material.
4. No Staining – Since water cannot penetrate at a .05% absorption rate, neither can your wine, BBQ sauce, or anything else you want to throw at it. If you ever have a spill, just rinse it off with water and you are good to go with no stains left behind.
5. Versatility in Applications – Our ¾" thickness allows for installation in interior or exterior applications. Porcelain has a breaking strength of 3800lbs compared to Natural stone at 1900lbs.
6. Slip resistant – Whether used for a pool deck or a bathroom floor, Everblue™ porcelain pavers provide a textured surface to provide a slip resistant finish while providing the look of natural stone.
7. Low Maintenance – Porcelain pavers are ready to be installed just as any other patio paver. With no fading, scratching, or staining, there is no need to seal the project after installation. Install the material and enjoy your living space! Whenever it needs a minor cleaning, rinse it down with water and continue on with your day!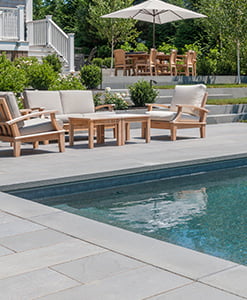 8. Sizing Guaranteed – Dimensions and thickness are guaranteed unlike natural bluestone that always have sizing variances. The Everblue™ bluestone porcelain pavers are rectified, exact sizing, with beveled edges to prevent chipping and provide a nice joint line. Available in 5 different sizes (Full Color & Thermal Blue only), Everblue™ can be purchased in a pattern or individually by size: 24×48″, 12×48″, 24×24″, 12×24″ or 12×12″.
9. Easy to Install – Lighter and easier to handle than natural stone, our bluestone porcelain pavers are easy to install, while also being removable and reusable. Installation is just like any other paver installation without any of the maintenance! Any flat surface will do: grass, sand, cement or even raised applications.
10. Product Options – Available in three natural looking colors there's no reason not to use these pavers for your next project:
Everblue – Thermal Blue
Everblue – Full Color Variegated
Everblue – Sand