Dimensions: 48″ x 52″
The Best Selling PVC Outdoor Shower
For a Standard Cape Cod Outdoor Shower Kit that utilizes the house as a wall, go with a House Mount. Added Posts are an option for those who wish to use the posts against the house wall for a complete look.
Notes: Door can be moved to any side of the outdoor shower kit! PVC outdoor shower kits are available as complete kits only with optional posts against the house.

---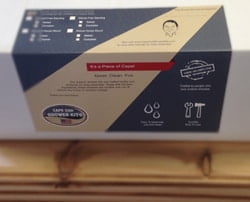 What's in the Box
(2) Large Walls (44.25″ x 72.75″) PVC T&G
(1) Small Wall (14.125″ x 72.75″) PVC T&G
(1) Door (26″ x 72.75″)
(3) 7′ PVC Posts – above ground installation
(3) PVC Post Caps
(1) 3'x3′ PVC Decking Floor
Hardware Pack: includes hinges, latch, and timberloks.

---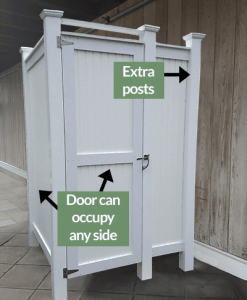 Extra Posts and Door Positioning

For a more finished look, add additional posts with posts caps against the house for the best looking outdoor shower in the neighborhood!
Note: Doors can be installed on any side! Our outdoor showers are modular so that it is easy to move walls and the door to the side you prefer to maximize the set up for your outdoor shower arrangement.