Premium Pine Plank Flooring
Eastern White Wide Pine flooring is a beautiful wood we mill in the Northeast US and eastern Canada. It has been used for hundreds of years as wood flooring and pine paneling that is typically chosen for its warm tones and unique character. It is sold in both premium and knotty grades, with the premium being more formal and the knotty being more casual. As a wide pine floor flooring, premium stands out as a beautiful plank addition to any home.
• Offered in 6″, 8″, 10″, 12″ widths
• Random plank lengths 6′-16′ – Shipping varies based on lengths
Standard Knotty also offered
• Call for special requests or commercial quotes
Which Pine to Choose?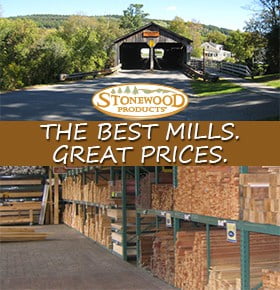 The Biggest Selection. The Best Mills.
Stonewood started as a Pine Lumber supplier to contractors, manufacturers, and homeowners. Since 1997, we have been a part of countless pine projects across the country. To this day, we work with only the best mills, offering top notch pine. We have warehouses full of Pine Flooring in different grades and styles for any project. And, if you want pine lumber, talk with us too. It's one of our specialties.