Our custom barn doors are carefully handcrafted right here on Cape Cod by local craftsmen. This unique accent to your home or office space is made from high quality materials to your specifications. Our barn doors come fully assembled, made from 100% real, solid wood.
And now we've made it easier then ever to order your custom barn door. 

 Download our Barn Door handout.
---
4 EASY STEPS TO ORDERING A BARN DOOR
1. Measure your space
WIDTH
If your doorway has trim: Measure from outside of trim to the outside of trim.
If your doorway has no trim: Measure the width of opening
HEIGHT
If your doorway has trim: Measure from the floor to the top of the trim & from the floor to the bottom of the trim.
If your doorway has no trim: Measure from the floor to the top of the opening. 
Add 1″ on either side for overlap
MAKE SURE the side you want the door to slide has at least as much width as the width of the door, and there are no obstructions out more than 1.5″ from the wall (e.g. baseboard radiations, wainscoting caps, etc.) 
You will need about 6″ from the bottom of the top opening to the ceiling. 
2. Choose Wood
Our custom handmade barn doors are available in 3 wood types:
Cottage Wood
Reclaimed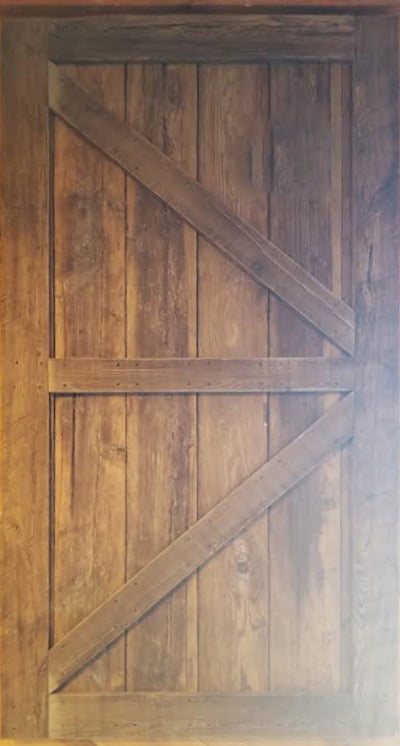 Barnwood
3. Choose Frame Style
Choose one of 4 classic barn door frames: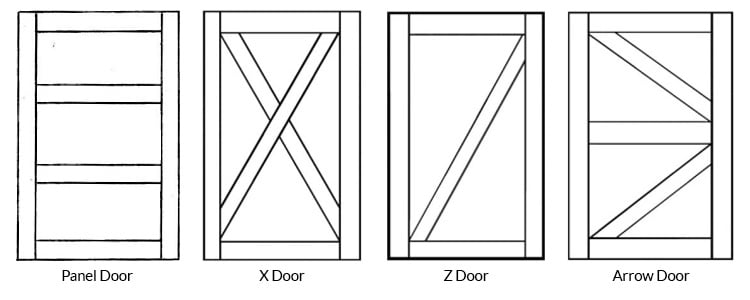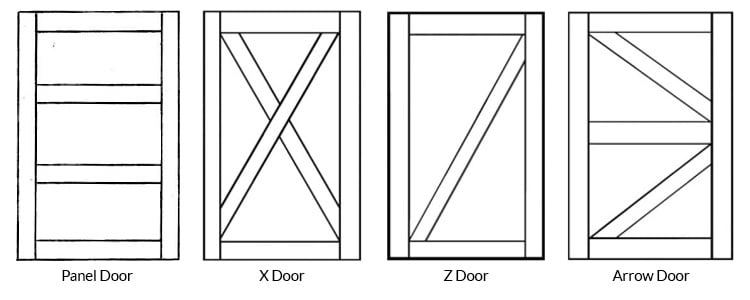 4. Choose Hardware
Basic Hardware:
8′ or 10′ Track & Hangers available in Black or Brushed Nickel
Single Track Bypass:
Available in Black
Double Track Bypass:
Available in Brushed Nickel
Frequently Asked Questions
1) Are Cottage Doors available with vertical boards instead of horizontal?
Yes, vertical panels are available for our Cottage Doors upon request.
2) Are there color choices?
Cottage Doors can be painted for an additional fee. 
3) What kind of wood is used for the Cottage Doors?
Our Cottage Doors are made using our primed pine cottage paneling. 
4) Where are these made?
Right here on Cape Cod.
5) How thick is the wood used?
Depending on the wood, the door is 3/4″ to 1″ thick and up to 2″ combined on the trim and frame. 
6) Is there a groove at the bottom that can be used with a track?
A groove at the bottom can be requested for use with a pre-existing track. 
7) Are handles included?
We do not offer handles with our custom barn doors, but suggest checking your local hardware store. 
8) How does delivery work?  Is it included or is there an additional cost?
Delivery cost is dependent on location and not included in the price of the door. 
9) How long does it take to make a custom barn door?
Your custom barn door will be ready 4 weeks after your order has been placed.